DraftKings Sportsbook Review
---
DraftKings Sportsbook Review
DraftKings was originally founded as a daily fantasy sports operator, but now they are one of the biggest names in the sports betting industry. The DraftKings Sportsbook brand continues to grow, just as the industry grows throughout the United States. Throughout this DraftKings Sportsbook review, I try my best to capture the pros and cons of making this sportsbook your go-to. Currently, we have DraftKings as our top recommendation on our Sportsbook Review page, however, as the sports betting industry grows, so does the competition. As it seems, every month betting apps, promotions, and contests get better and better.
This DraftKings Sportsbook Review will give customers a chance to learn about some of the features, as well as discuss some of the special offers that can be provided. The DraftKings Sportsbook review should help customers choose the operator if it is legal in their state.
Sportsbook Overview
DraftKings Sportsbook is widely considered one of the top sportsbooks on the market, and the company has a proven track record in the sports betting industry. Originally a daily fantasy sports provider, DraftKings is now synonymous with sports betting in the US.
DraftKings has been able to quickly form partnerships with casinos and other operators throughout the country, which has allowed them to launch in several states rather quickly. States that have already legalized sports betting have gotten a huge boost from DraftKings joining the market.
Since DraftKings has a huge background in sports betting and fantasy sports, it was a smooth transition for them into the sports betting industry. DraftKings is a company that is based out of Boston, but they also feature sports and leagues from around the world. Even though DraftKings Sportsbook doesn't need a ton of help in attracting customers, their welcome bonus is among the best in the industry. The terrific welcome bonus will be discussed in more detail in the next section of the DraftKings Sportsbook Review.
Look for DraftKings to continue to grow and expand throughout the United States as more states legalize the industry. The company continues to look to form partnerships with big casino operators, and they have also started partnering with professional leagues and teams.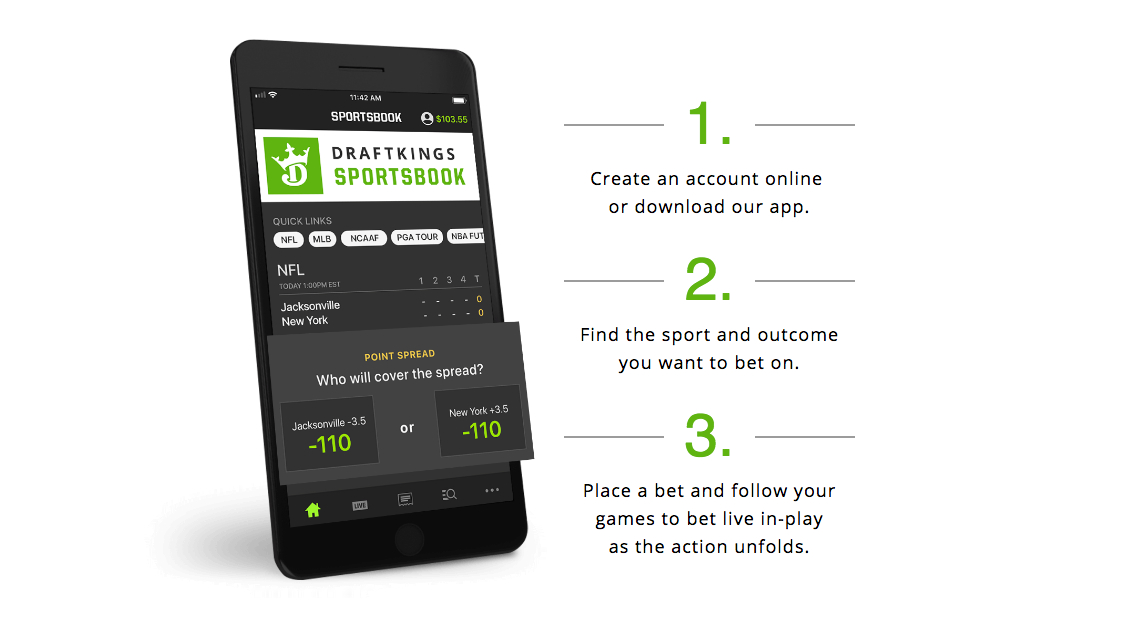 Promo codes or Special Offers
Sportsbooks are always looking for ways to stand out in a very crowded and competitive industry, and bonuses and promotions are one way to do just that. DraftKings Sportsbook has the best welcome bonus in the industry, and it is available to all new members. Another great thing about the welcome bonus and promotion from DraftKings Sportsbook is that a promo code is not needed. Anyone that signs up at the site or through the mobile app will automatically have the bonuses credited to their accounts.
The first offer from DraftKings is a free $25 to anyone that opens up a new account. There is no deposit required with this offer, and customers can use the money to start placing bets. The next offer from DraftKings Sportsbooks is a 20 percent deposit match up to $500. This means that an initial deposit of $2,500 can earn a new customer a free $500. Finally, DraftKings also rewards all of their new customers with a risk-free bet up to $500. If the first bet at the sportsbook loses, then DraftKings will credit the account for the amount that was lost.
In total, new customers are eligible to receive up to $1,025 just for signing up and playing at DraftKings Sportsbook.
States Available
DraftKings Sportsbook waited little time in jumping into the sports betting industry when the Supreme Court lifted the federal ban on sports betting. DraftKings already knew how to create an app that was extremely customer-friendly, and their sports betting app works the same way.
New Jersey was the first state that saw a DraftKings Sportsbook as it launched in 2018. DraftKings was quick to form a partnership with Resorts Casino in New Jersey, and that allowed them to launch their online sportsbook. They also operate retail sports betting at Resorts Atlantic City. DraftKings also launched in Pennsylvania shortly after the decision from the Supreme Court. There was a slight delay in launching their mobile app in Pennsylvania, but that has now been corrected for residents of the state.
West Virginia legalized sports betting in 2018, and the industry launched in 2019. DraftKings operates a retail sportsbook at the Hollywood Casino at Charles Town Races as well as offers mobile betting in the state. DraftKings was able to launch its brand of sportsbook in the state of Indiana on October 3, 2019. DraftKings has formed a partnership with Penn National Gaming, and that company operates several casinos throughout Indiana.
The state of New Hampshire launched sports betting on December 30, 2019, and DraftKings Sportsbook was the first and only online operator. This remains the case today as DraftKings has a clear monopoly over the state.
Iowa was the next state to introduce a DraftKings Sportsbook app to its residents, but the signup process is a bit unique in this state. Residents of Iowa must first download the app before completing their registration at one of three Wild Rose Casino and Resort locations in the state.
Colorado was the latest state to launch sports betting, and DraftKings was one of the first to launch in that state. They formed a partnership with Mardi Gras Casino, which gave them the right to apply for a sports betting license.
DraftKings is also now live in Illinois after a long battle with the Illinois Gaming Board. DraftKings has partnered with the Casino Queen in East St. Louis.
DraftKings also offers retail sports betting in Mississippi and New York, but these states don't currently allow mobile or online betting.
Funding Your Account: Deposit Options
DraftKings specializes in a terrific banking experience and one that is both quick and easy for their customers. They have a number of deposit options available, although some of these options are not available in every state. Here are some of the deposit options offered by DraftKings Sportsbook, with a brief description of each one:
Credit Card/Debit Card: This is one of the most popular deposit methods at DraftKings Sportsbook, and the operator accepts both Visa and Mastercard transactions.

Bank Transfer: DraftKings Sportsbook also allows its customers to link their bank account to their sports betting account for quick and easy transactions. Banks might restrict this type of payment, so it is best to check with your banking institution.
Play+ Prepaid: The prepaid card from DraftKings Sportsbook allows customers to reload their cards at any time. These funds can then be used to put money onto a sports betting account.
PayPal: DraftKings Sportsbook accepts deposit transactions using PayPal, and it has become an extremely popular form of deposit for some customers.
PayNearMe: PayNearMe kiosks are located at 7-11 stores in many states that have DraftKings Sportsbook services. Cash can be used to transfer money from a PayNearMe kiosk into a sports betting account.
Casino Cage: Customers can also visit one of the casinos that is partnered with DraftKings and deposit money using cash. Earlier in this DraftKings Sportsbook Review, some of the partner casinos were mentioned.
Available Sports, Games, and Bets
One of the biggest reasons that DraftKings Sportsbook is so popular in the industry is because of the large list of available sports and betting options that are offered. Even though DraftKings Sportsbook is based in the United States, they have had little trouble finding international sports to offer.
All of the top professional and collegiate sports in the United States are featured at the sportsbook, and there are a number of betting options available for each one of them. DraftKings Sportsbook also offers betting on the biggest sporting events in the world, including the Summer and Winter Olympics. Each state sets its own rules and regulations about which sports can be offered by the sportsbook. DraftKings always follows these regulations, but they also push things to the limit when looking for betting options.
Here is a list of some of the sports that are available to bet on at DraftKings Sportsbook:
Aussie Rules Football

Auto Racing

Baseball

Basketball

Boxing

Cricket

Darts

Golf

Hockey

MMA

Soccer

Table Tennis

Tennis
This is not a complete list, and the different leagues that are offered at DraftKings vary by state. On top of featuring betting on a wide range of sports, DraftKings also offers one of the biggest selections of betting types. All of the most common betting types are, of course, offered by DraftKings, but there are some unique types of bets offered as well.
Here are some of the most common types of bets featured at DraftKings Sportsbook:
Moneyline

Spread

Totals

Futures

Parlays

Teasers

Props
DraftKings also offers two types of betting that set them apart from the competition. These betting types include "in-play betting," and "betting pools."
In-play betting, or live betting, is available at most of the top sportsbooks throughout the country, but few have as many live betting options as DraftKings. Their partnerships with professional leagues and teams also give them the opportunity to provide official data and stats to their customers.
Betting pools are unique to DraftKings Sportsbook, but this type of betting action is not legal in every state. Customers can join these pools for a fixed rate, and they can sign up for a certain length of time. These betting pools are extremely popular during the NFL and college football seasons.
Withdrawal Options
Even though DraftKings does provide a quick and easy banking process for its customers, there aren't as many withdrawal options as there are deposit options. This is typically the case for all sportsbooks in the industry, and DraftKings has provided enough withdrawal options. The type of deposit option that is chosen will also narrow down the possible withdrawal options that can be used.
Check: The traditional way of receiving winnings from DraftKings Sportsbook is by requesting a check through the mail. DraftKings Sportsbook has limits set on the amount of money needed for this transaction, and it can also take up to 7-10 days.
ACH: An ACH or e-check is another possible withdrawal option that is available to DraftKings customers. This money can be deposited directly into a customer's bank account, assuming you have provided them with your banking info.
PayPal: If a customer has their PayPal account linked to their DraftKings account, then this is a terrific withdrawal option. Most customers that choose this option also choose to deposit money from their PayPal account.
Casino Cage: Just like with the deposit process, customers can also visit a casino that is partnered with DraftKings to receive their winnings.
Company History
DraftKings was founded in 2012 in Boston, Massachusetts, by three men that were former employees of VistaPrint. Matthew Kalish, Paul Liberman, and Jason Robins sat down together and decided to create a daily fantasy sports site that would rival FanDuel. Their first daily fantasy sports game was launched on Opening Day of the 2012 Major League Baseball season, and it was a one-on-one competition. The company continued to expand from there, and it wasn't long before they were able to attract an outside investor.
Major League Baseball invested in the company in 2013, becoming the first time that a professional sports league invested in a DFS operator. That trend continued in the coming months, and by the end of 2013, DraftKings had paid out more than $50 million in winnings to their customers. DraftKings continued to work to secure deals with major sports organizations, and they were also able to secure a huge deal with ESPN. They signed a three-year advertising deal with ESPN for more than $250 million in 2014. The company continued to grow and lead the DFS industry, but in 2018 they started to turn their attention and focus to the sports betting industry. In 2018, DraftKings became the first online sports betting operator in the state of New Jersey.
DraftKings and FanDuel had attempted a merger just two years earlier in 2016, but the Federal Trade Commission blocked the partnership. The companies continued to grow without each other, and they continue their strong rivalry in both industries today.
In April 2020, DraftKings became a publicly-traded company, and they saw a huge stock price increase on the first day in the market. Their stocks have been up and down over the last four months, but the future in sports betting looks strong for DraftKings.