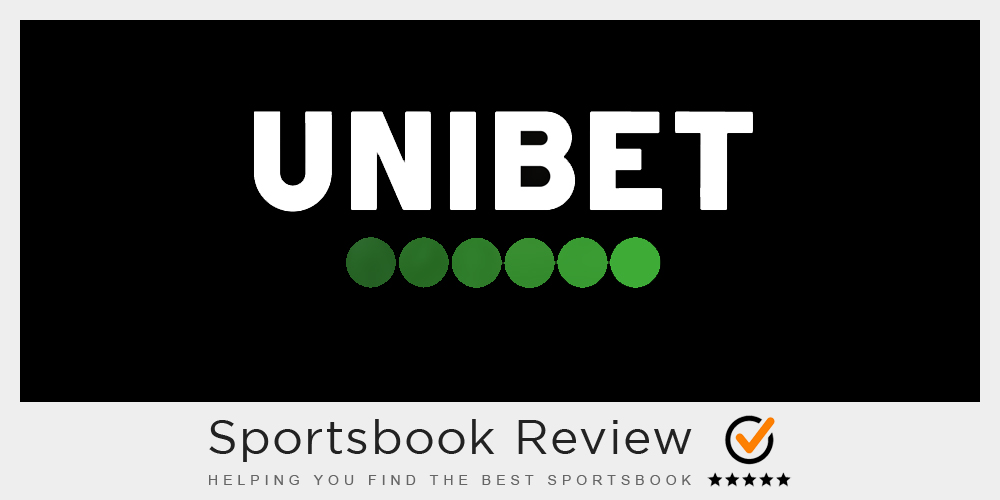 Unibet Sportsbook Review
---
Unibet Sportsbook Review
Unibet Sportsbook is a major player in the sports betting industry, but most of that damage has been done internationally. They have now launched in the United States, and it hasn't taken them long to become a force.
Unibet Sportsbook has a long and impressive background in the industry, and that knowledge has helped them become a sought after partner in the United States. This Unibet Sportsbook Review will highlight some of the top features, and will also discuss some of the areas where they have already launched.
It is almost a guarantee that Unibet Sportsbook will become a popular name in the United States, just as they have been internationally for many years.
Sportsbook Overview
This Unibet Sportsbook Review will discuss some of the factors that make this one of the best in the business, and the list is long and distinguished. Unibet has been around for more than 20 years, and there aren't many companies that have been around longer.
Unibet not only provides sports betting, but they also offer every form of internet gaming available. Sports betting is how they got their start, and this remains a major focus of the company.
Unibet Sportsbook features a nice welcome bonus to new players, and there are also a number of great offers available for returning customers. The sportsbook offers weekly contests and promotions that can help customers win big.
Currently, Unibet Sportsbook is available in just three states, but that number is expected to climb in the coming years. It's never easy for an international sportsbook to break into the US market, but Unibet hasn't had much trouble.
By offering a long list of betting markets, along with almost all of the available betting options, Unibet has been able to attract some of the top players in the industry. Unibet offers extremely competitive betting lines, and that has helped attract customers as well.
Unibet Sportsbook is one of the best in the business, as you will soon find out by reading the Unibet Sportsbook Review.
Promo codes or Special Offers
Unibet Sportsbook is one of the biggest sports betting operators in the world, but they were a new name in the United States. In order for Unibet to build up a customer base, it needed to come up with some bonuses and promotions.
Unibet Sportsbook now features a pair of welcome bonuses to new players on its site, and customers can receive up to $270. The best part is that a promo code is not needed to take advantage of this offer, and everyone is eligible.
New customers will receive a free $20 just for signing up at the sportsbook. This bonus comes in the form of two $10 free bets, and these will be credited to your account immediately.
When a customer makes their first deposit at the sportsbook, then they are eligible to receive a free bet that is worth up to $250. There is a minimum of a $10 bet to be eligible to receive the risk-free bet, and the money lost will be credited within 72 hours.
Another special offer from Unibet Sportsbook is the weekly parlay boost. Offering a welcome bonus is nice, but Unibet also provides their returning customers with a terrific offer.
There are certain percentages that each parlay is boosted depending on the number of legs that are included. A five-team parlay at Unibet Sportsbook could be boosted as much as 30 percent.
Unibet also offers a promotion to customers in New Jersey that can win them a trip to see the New Jersey Devils play. Placing a bet on an NHL game will enter customers into a drawing to win the free tickets each week.
States Available
Unibet Sportsbook was keeping a close eye on the industry in the United States, and they jumped at the chance to enter the market when given the opportunity. Currently, Unibet Sportsbook is available in just three states, but they are expected to launch in other states very soon.
The first state that saw a Unibet Sportsbook was New Jersey, and that state is one of the leaders in the sports betting industry. Unibet joined a competitive market when they launched, but they have been able to be extremely successful.
Unibet New Jersey launched their sportsbook in September 2019. Unibet has a partnership with Hard Rock Atlantic City to offer sports betting.
The second state to feature a Unibet Sportsbook was the state of Pennsylvania, and the online sportsbook was launched in November of 2019. The retail sportsbook was launched in September, but the company was not ready to launch their mobile version at that time.
Unibet has a partnership with Mohegan Sun Pocono in Pennsylvania
Unibet has partnered with Caesars Horseshoe Hammond in Indiana, and that allows them to offer both retail and mobile sports betting in the Hoosier State.
Colorado, Michigan, and West Virginia are all expected to see Unibet launch in their states soon, but nothing is currently in the works.
Funding your account: Deposit Options
Unibet Sportsbook has a terrific banking process, and this has been built by having more than 20 years in the online gaming industry. Unibet is able to accept more than a dozen types of international currency, but the US Dollar is accepted in the US.
Unibet Sportsbook has close to 10 deposit options available in all three of the states that they service, and the options are the same throughout. The minimum deposit is $10 for all of the deposit options that are listed below.
Unibet Prepaid Play+ Card
One option that is unique to Unibet is their prepaid card that they call Play+. This card can be reloaded using a variety of payment methods, and those funds can then be transferred to a sports betting account.
PayPal
PayPal has quickly emerged as one of the most popular payment options in the United States, and Unibet Sportsbook offers this deposit option. Customers simply link their PayPal account to their sports betting account for a quick and smooth process.
Online Bank Transfer
An online bank transfer is also listed as a deposit option on the Unibet Sportsbook site, although not all banking institutions allow this type of transaction. Customers will have to provide Unibet with their banking information to be able to use this option.
Credit/Debit Card
Unibet Sportsbook accepts both Visa and Mastercard, and these cards can be ran as either credit or debit. The use of a credit/debit card can result in an immediate transaction, with funds being available instantly.
Casino Cage
Customers can also visit the casino cage at one of the locations listed earlier in the Unibet Sportsbook Review. Tellers are on hand to accept deposits, and that money will instantly be available.
ACH (E-Check)
This is another common deposit option offered by sportsbooks, and Unibet is no different. This process allows customers to submit an ACH request, and the money will then be added to their sportsbook account.
Available sports, games, and bets
There is a reason that Unibet Sportsbook is one of the leaders in the industry and their long list of available markets is one of the biggest reasons. Unibet has a long history in the sports betting industry, and that has allowed them to expand their betting options.
Unibet Sportsbook has to follow the rules and regulations that are set by the states in which they operate, but they typically are competitive with other sportsbooks in the betting markets they provide. All of the most popular sports in the US are offered, as well as some unique international options.
The list of available betting markets offered at Unibet Sportsbook continues to grow, and this list below will likely need updating as they continue to add markets.
Here are the betting markets offered at Unibet Sportsbook:
Australian rules
Boxing
College basketball
College football
Combat Sports (UFC/MMA)
Cricket
Cycling
Darts
Golf
MLB
Motorsports (NASCAR, Formula One)
NBA
NFL
NHL
Rugby
Soccer
Tennis
Along with offering a wide range of betting markets, Unibet Sportsbook also offers a number of different betting options. Each sport creates different betting opportunities, but Unibet Sportsbook is competitive in the amount of bets that they offer.
All of the common betting types are featured as Unibet Sportsbook, and they also offer some unique options as well.
Here are the common betting options that are offered at Unibet Sportsbook:
Moneyline
Totals
Spreads
Futures
Props
Teasers
Parlays
Live betting is also offered at Unibet Sportsbook, and it offers one of the most complete menus of in-play betting options for each game.
Withdrawal options
In terms of withdrawal options, there aren't as many options available, but it's still a pretty impressive list. There are five withdrawal options offered from Unibet Sportsbook, which is actually more than some of their biggest competitors.
This Unibet Sportsbook Review will discuss the different ways to make a withdrawal request, and explain how the process works in detail. All of these withdrawal options are available at all three Unibet Sportsbook locations in the US.
The withdrawal process is quick and simple at Unibet, and the money can be received in a very short amount of time. Here are the available withdrawal options:
Cash at Casino Cage
We discussed that this is one of the deposit options available to customers, and it is available for a withdrawal as well. Tellers are able to hand out your winnings, and you can be paid in cash.
Online Bank Transfer
If you have already provided Unibet Sportsbook with your banking information when making a deposit, then this is the most logical withdrawal method. This process can take a few days before the funds show up in your bank account.
PayPal
PayPal is another withdrawal method that is offered at Unibet Sportsbook, and it has become an extremely popular option. As long as a customer's PayPal account is linked to their account at Unibet, then this is an option.
Unibet Prepaid Play+ Card
If the Unibet Prepaid Play+ Card was the deposit method that was used, then this can also be used to make a withdrawal. The funds can be quickly reloaded to the Play+ Card, and then this money can be used for other things.
Check By Mail
Receiving a check by mail is likely the option that is chosen by the least amount of customers, and it is sort of a last resort. This process can take between 7-10 days before the check shows up in the mail.
Company history
Unibet is one of the biggest names in the online gaming industry, and they provide so much more than just sports betting. Unibet serves customers in more than 100 countries around the world, and they have more than 11 million customers world-wide.
The company has been around for more than 20 years, having been founded in 1997 by Anders Strom. The company initially operated out of Strom's home in London, England, but it wasn't long before they needed to move to a much bigger headquarters.
In 1998, the first bets that Unibet ever took were over the phone, and that was the first year that they received their betting license. Their online betting site was established and launched in 1999, and the company started seeking out a way to receive an international betting license.
The company received their first ever international gaming license in Malta, and that is where their current headquarters are located today. By 2004, the company featured more than a dozen different languages on their site, and they serviced more than 300,000 customers.
The former Unibet Group became the Kindred Group in 2016 after several large acquisitions of other companies. Their first time going live in the United States occurred in 2019, when they received a license in the state of New Jersey.
They have formed a partnership with both the New Jersey Devils of the National Hockey League, and the Philadelphia Eagles of the National Football League to become official betting partners.
PCM magazine, "eGaming Overview" awarded Unibet as the top sports betting operator in 2006, 2008, and 2009. Now that the company has broken into the US, look for Unibet to continue to grow in this country.