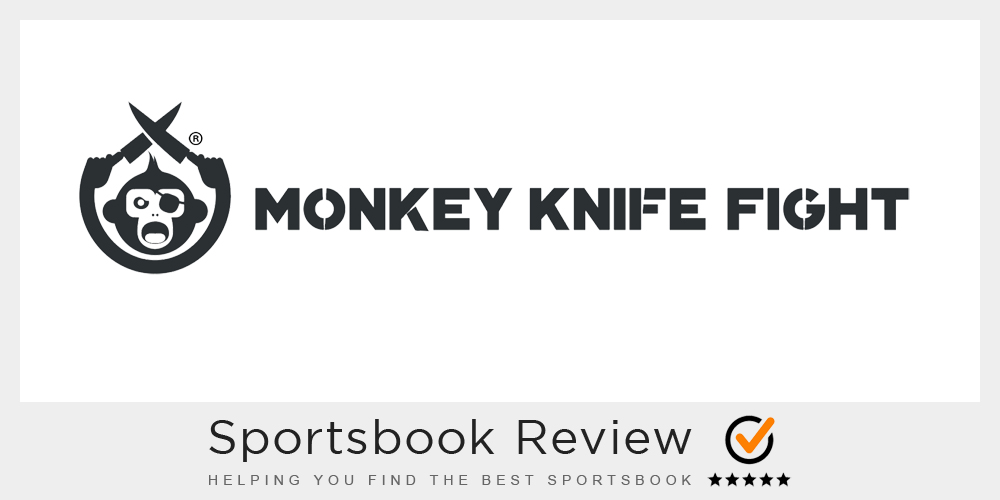 Monkey Knife Fight Review
---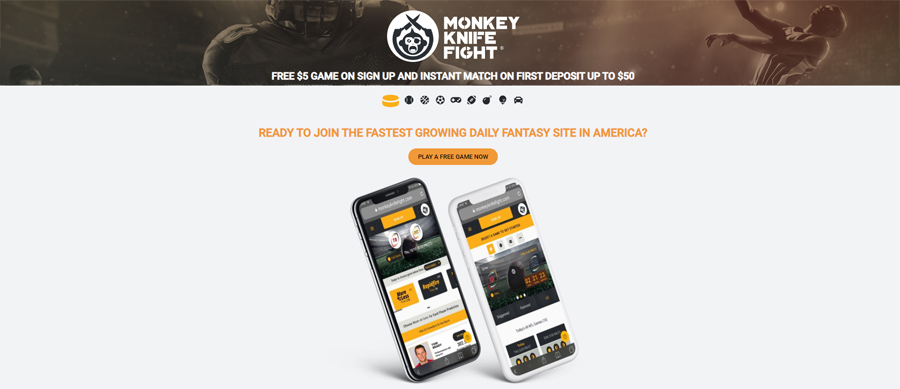 Monkey Knife Fight Review
Monkey Knife Fight is the fastest-growing daily fantasy sports operator in the United States, and it is starting to become a real threat to the two industry leaders. The name "Monkey Knife Fight" might not be a household name at this point, but it will be very soon.
Monkey Knife Fight has taken the daily fantasy sports industry and given it a new and unique twist. This fresh new take on DFS is available in more than 30 states. This Monkey Knife Fight review will cover some of the top features of this site, and it will also discuss some of the banking options. There are still some things that need to be updated or improved at Monkey Knife Fight, but this operator is off to a great start.
If Monkey Knife Fight is available in the state you live in, you should give this platform a try and see why it lives up to the hype.
In the world of daily fantasy sports, a new contender has cornered the market, in the form of Monkey Knife Fight, though you may know their site as simply MKF. This season I have played a lot of MKF props, as I find them to be a great way of taking mundane blowouts and turning them into an enthralling viewing experience on a Sunday afternoon. MKF is unlike most daily fantasy sports sites, in that it doesn't prompt the user to set a lineup of any kind for the purpose of competing against other users to win money. Rather, MKF pits the depositor against their own site, with rather favorable lines that can be used to profit by a savvy researcher. There are a variety of different mini-games to play on the website/app, all of them offering the user a view through different lenses of fantasy football. In my experience discussing the product with representatives from this company, I've found every person whom I've encountered to be both generous and passionate about sports, with a genuine level of care regarding their product and the relationships between the company and its affiliates. This in conjunction with the simplicity of the games, is what separates MKF from its competitors, creating a distinct product for its users.
How To Play The Game
As mentioned earlier, MKF features a variety of different games for users to pick from. Each has its own quality that makes it fun and viable. Here's a little breakdown of their NFL lineup:
NFL
I find the NFL sector of this app to be by far the most interesting -- though I'm a bit biased as a fantasy football analyst who also writes sports betting articles dedicated to the gridiron. There is a vast range of game types, from low-risk, medium-reward props to much larger ones that can lead to exorbitant payouts. I've found the NFL contests to also be much more predictable, as the concept of a game script helps to determine a lot of the likelihood with these props
Rapidfire
The concept of the rapid-fire game is rather simple. You are presented with two options and must choose the one that you think will have more yardage/fantasy points. Here's an example below.
As you can see the goal of this contest is to pick the player who you think will score the most fantasy points, with two different sections to choose from. In column one, you must choose between Josh Allen and Tua Tagoavailoa. While it may seem easy to pick Allen given his prolific performance this season, that bonus +7.5 below Tagovailoa's name indicates that this prop won't hit if Allen scores less than 7.5 fantasy points more than him. To win on this prop, one must win both columns, so choosing between Stefon Diggs and Myles Gaskin (w/ a +5.5 bonus) could be a very tough call. This mini-game comes with multipliers ranging from 3X to 5X depending on your preference. It's typically the easiest to hit on, making it a great starter prop for any new users.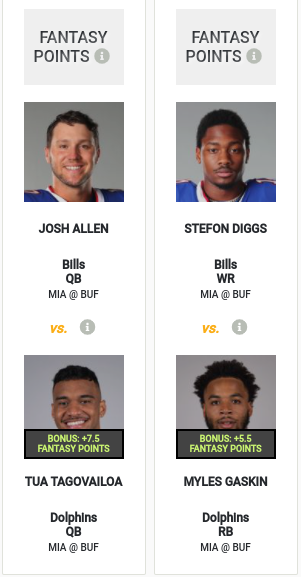 More or Less
The More or Less mini-game possesses the greatest range of risk, as the multipliers on this can be anywhere from 3X to 100X. The aim of this contest is rather simple. You're given a line for a player and must decide whether they will exceed or fall short of the number assigned. On lower multipliers, this is fairly easy, though hitting on the 100X plot requires an eight-way parlay of events to go in the user's favor. Below is an example of the 100X multiplier version of this game. As you can see, it takes quite a bit of luck and knowledge to emerge victorious in these larger stakes contests, though the risk may be worth the reward if you feel confident in your picks. I tend to play these types of contests when I'm feeling dangerous, though they will not always hit, as there are multiple variables to consider.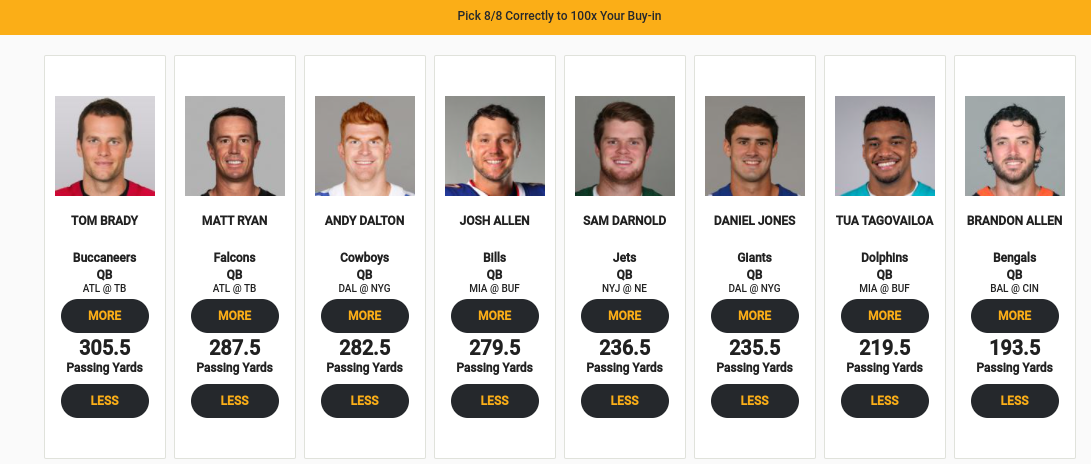 Touchdown Dance
The aim of the Touchdown Dance mini-game is to choose which players you think will score. There are a variety of multipliers to choose from and they are based on the number of touchdowns you want to bet on that group to have. For example, on this lineup, I chose the 2.5 line, which comes with a 1.5X multiplier. My guess is that between Dobbins, Fournette, and Ridley I can get more than 2.5 touchdowns. This game is very straightforward, but also very luck-dependent.
Reception Collection, Go Long, Hail Mary, & Rush Hour
The remaining mini-games dedicated to the NFL are similar to touchdown dance, as you're choosing three players to combine for a certain amount of receptions or yardage. They're very straightforward and tend to be relatively easy to win if you do the proper research. I enjoy these contests a lot, as they're the closest thing to traditional fantasy football as there is, and the advanced metrics offered by FantasyData allow subscribers to gain a significant advantage strategically.
Non-NFL Contests
As of this moment, MKF offers contests for multiple sporting events, including NBA, NHL, College Basketball, Golf, UFC, Soccer, and even League of Legends. There's something for everybody on this platform, and the contests offered are far different from those offered on other DFS sites. While some of the contests offered in the non-NFL sectors are a bit difficult for me, I do like to play them when I plan on watching a particular game.
Deposit Options
There are various deposit options for this site. With a minimum deposit of $10, users can see their first deposit matched 100% up to $50 if they use a promo code, with the site kicking in an extra $5 for new depositors. Users can wager anywhere from $5 to $100 on a bet, which combined with the various multipliers offered can result in some huge winnings. With everything from low stakes, low risk contests to some absolutely loaded parlay-type contests -- like the one shown above -- Monkey Knife Fight is a service that almost anyone can appreciate.
Where You Can Play MKF?
MKF has recently developed an app for their products. While the app is minimalist right now, it is easy to access and very straightforward. You can find everything you need in order to create lineups, submit deposits, or check your ongoing contests with a couple of clicks. Considering the app was launched less than a year ago, I am very impressed with it. I tend to use the website when I play, as I've been using their service since before there was an app. The interface is certainly better, which is to be expected, as the site has been up and running for a few years now. However, both approaches work well and the convenience of the app is what drives me to keep it on the homescreen of my phone.
So What Are You Waiting For?
In the last year, Monkey Knife Fight has grown tremendously, partnering with the likes of the Milwaukee Brewers, San Diego Padres, and Miami Dolphins, as their primary DFS connection. What separates MKF from their competition is the fact that fun is the primary motivation behind the creation of their contests. I've enjoyed playing MKF this year and will continue to do so in the future, as I expect their development team to create even more contest for the user base to enjoy.
Is Monkey Knive Fight a Sportsbook?
Monkey Knife Fight is not a sportsbook at this time, but it does offer daily fantasy sports contests to its users. While other DFS operators have broken into the sports betting industry, that is not a move that Monkey Knife Fight has made at this time.
Other DFS operators paved the way in the industry, but Monkey Knife Fight is out to change the way that the DFS games are played. This company brings an exciting new twist to daily fantasy sports, and its fun and engaging website will keep fans coming back for more.
All of the action is done through the Monkey Knife Fight website, as there is no mobile option at this time. It's unclear if this is a direction that Monkey Knife Fight will explore in the future, but the operator has been busy putting all of their time and energy into creating a second-to-none platform. You won't find any betting options at this site, but you will be able to enter contests for real money at Monkey Knife Fight. Playing against another opponent is an option, but most of the time, you are only playing against the site in hopes of winning big.
The banking options at Monkey Knife Fight are limited at this time, but there is plenty of room for growth in that section. Again, this operator is committed to providing fun and exciting games and is continuing to work on other parts of the site.
There are four exciting different styles of games that can be found at Monkey Knife Fight, and all of them offer fun ways to play. All of the most popular sports are featured, and many more are still to come. Much of the focus in the United States has been on the growing sports betting industry, but Monkey Knife Fight is bringing the focus back to the DFS industry.
Promo Codes and Special Offers
Promotions are an excellent way for operators in the sports betting industry to attract new customers, especially in states with loads of competition. Things work the same way in the daily fantasy sports industry, even though there are just three leading operators. Monkey Knife Fight is able to attract new customers with its unique and exciting take on daily fantasy sports, but that doesn't mean they don't have a nice welcome bonus. New customers are eligible to receive a nice welcome bonus when signing up for the site as long as they have an appropriate promo code.
New customers are currently eligible to receive a first deposit match of 100 percent, up to $50! That means that you can begin playing at Monkey Knife Fight with $100 in your account just for taking advantage of the bonus code that is available at Monkey Knife Fight.
There is no loyalty rewards program available at Monkey Knife Fight, but the site does offer different contests that can earn your promotional site credits. These credits can then be used to enter other contests at the site, but the money can not be taken out of your account. Other operators might offer a bigger welcome bonus or better promotions to current customers, but this is something that Monkey Knife Fight is working on adding and will offer at a later date.
States Available
The daily fantasy sports industry has seen massive growth over the last decade, similar to what has happened in the sports betting industry as well. More than 30 states allow daily fantasy sports, and most of these states regulate the industry as well. Monkey Knife Fight is currently available in 31 states plus Washington D.C., but this list could expand at any time. As more and more states continue to legalize DFS sites, Monkey Knife Fight will be available in those areas as well.
It is important to note that the legal age to play at Monkey Knife Fight is just 18 years of age, much different from the legal gambling age in the sports betting industry. This allows for a much larger section of the population to log on to Monkey Knife Fight and give the great operator a try today.
Here is a current list of states that offer Monkey Knife Fight, and the site will accept players from the locations listed below:
Alabama
Alaska
Arkansas
California
Colorado
Connecticut
Florida
Georgia
Illinois
Kansas
Kentucky
Massachusetts
Maryland
Michigan
Minnesota
Mississippi
Nebraska
New Hampshire
New Jersey
New Mexico
New York
North Carolina
North Dakota
Oklahoma
Oregon
Rhode Island
South Carolina
South Dakota
Texas
Utah
Vermont
Virginia
West Virginia
Wisconsin
Wyoming
Funding Your Account: Deposit Options
One of the few negatives that you will find when using Monkey Knife Fight is when it comes to banking options. While the banking process is extremely safe and secure, using the most cutting-edge security technologies, the deposit options are extremely limited at this time. Monkey Knife Fight believes in keeping things simple and focusing on the actual games, but the number of available banking options could use some work. This is one area that Monkey Knife Fight will be looking to improve in the coming months, but it just hasn't happened yet.
Currently, the only way to make a deposit at Monkey Knife Fight is by using a credit or debit card. The operator does accept Visa, Mastercard, and Discover, but that does limit your banking options.
There is a minimum deposit of $10 required at Monkey Knife Fight, which is usually the standard in the daily fantasy sports industry. Most players will be using at least $10 when playing at the site and so that deposit is not that big of a deal.
PayPal is one deposit option that will likely be coming to Monkey Knife Fight next, as it is another common deposit option featured in the sports betting industry. At some point in 2021, look for Monkey Knife Fight to expand its deposit options to give players more options when funding their account. One of the options you won't see is making a deposit at the casino cage. That's because Monkey Knife Fight has not yet partnered with any land-based casinos. For now, Monkey Knife Fight will continue to offer one single deposit method that requires a $10 minimum.
Available Sports, Games, and Bets
The Monkey Knife Fight experience is unlike anything else in the daily fantasy sports industry, and the gameplay is exceptionally different. All of the games at Monkey Knife Fight are still dealing with fantasy sports and player stats, but these are utilized in a contrasting way.
Monkey Knife Fight has a limited amount of sports that it offers at this time, but it is constantly adding new betting markets. Here is a list of the sports that can be found at Monkey Knife Fight:
Golf
MLB
NASCAR
NBA
NFL
NHL
Soccer
There are currently four different types of games that can be found at Monkey Knife Fight, but again, this list could grow at any time. Here are the four different games offered at Monkey Knife Fight, with a description of each game.
Rapid Fire
Rapid Fire is a well-known game in the DFS industry as it is a game that has been around for quite some time. With this game, Monkey Knife Fight will put two players up against each other, and then you will be tasked with picking the winner of a statistical category.
More/Less
More/Less is very similar to what an over/under bet would look like in the sports betting industry. Monkey Knife Fight will set a line, and then it will be up to you to choose if the player will either have more or less than what the line is.
Fantasy Challenge
In Fantasy Challenge, players will choose three players in a particular game to try to go over the amount of fantasy points needed to win the game.
Star Shootout
Star Shootout works differently for each sport, and there are different target goals set for a specific game. Players get to choose which goal they want to go after, and each goal gets more challenging but also offers a bigger payout.
Withdrawal Options
Similar to the deposit options offered at Monkey Knife Fight, the withdrawal options are limited as well. Two different withdrawal methods can be used, but this is another area where Monkey Knife Fight falls a bit short. Online banking is not yet supported at Monkey Knife Fight, and there is currently no way to get your winnings instantaneously. There will be a bit of a delay, but the withdrawal process is 100 percent safe and secure.
When you want to withdraw your money at Monkey Knife Fight, you can choose from two different "check" options. One is a check by mail, and the other is by receiving an e-check. It can take up to 10 days for your check to come through the mail, and most users prefer to get their winnings much quicker than that. Monkey Knife Fight also offers an e-check option, and the funds could show up in your email account in just 3-5 days. There is a $20 minimum to withdraw money from Monkey Knife Fight, which is also a standard amount across the industry. The operator might also ask you to provide additional security information if your winnings exceed more than $600 in one calendar year.
This is another area that Monkey Knife Fight will be looking to improve in the coming months and years to give their customers more banking options.
Company History
Monkey Knife Fight began beta testing in 2017, and the company officially launched in 2018. The company is owned by billionaire Bill Asher, and the site's goal is to create a new way to play daily fantasy sports contests.
This site is much different than other DFS sites such as DraftKings and FanDuel, as all of the games feature prop betting options. Points are still awarded just like they are on other sites, but the competitions and contests are much different.
Most of the games offered at Monkey Knife Fight can be played with a small buy-in amount, and the reward can be quite large. This site focuses on smaller competitions against the site as opposed to huge contests against other players like you would see at other sites. Monkey Knife Fight is based in California, and it follows all of the current United States rules and regulations in the DFS industry. This has allowed Monkey Knife Fight to accept players from more than 30 different states without having to apply for a new license each time.
Recently, Monkey Knife Fight reached a deal with the NFL Players Association, and the site will feature a number of the biggest stars in the sport. The NFLPA has backed Monkey Knife Fight and is looking to expand their partnership in the future. Monkey Knife Fight has been named the fastest-growing daily fantasy sports operator in the world, and it is the third-largest in the United States. There is still plenty of room to grow in this space, but Monkey Knife Fight is off to a great start.