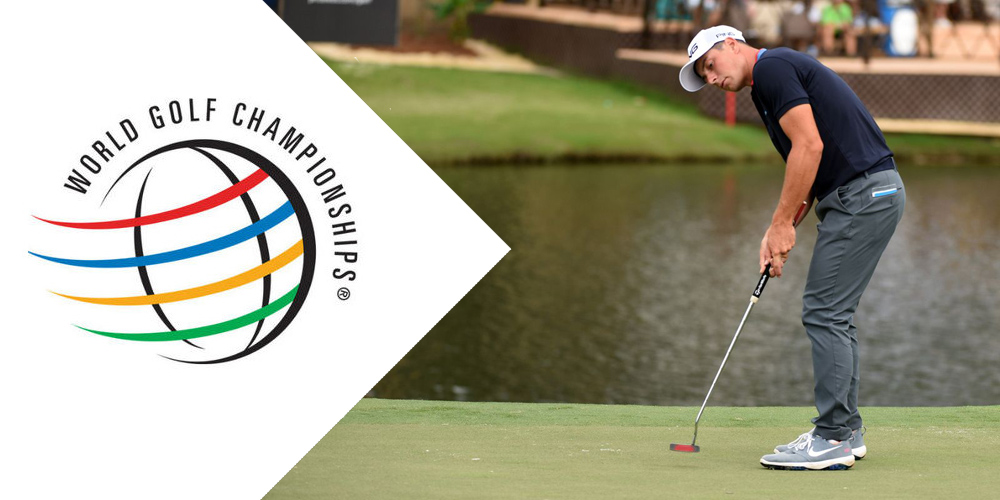 Golf Betting Tips For the 2021 World Golf Championships

---
Golf Betting Tips
The PGA Tour heads east from Los Angeles, California, to Bradenton, Florida, for the 2021 World Golf Championships - Workday Championship - featuring a 72-player field with the best players from the PGA Tour and the European Tour in action this week. Due to the pandemic, the course will be a new one in Florida as the trip to Mexico for the fifth straight year was put on hold to help reduce the potential spread of the COVID-19 virus.
There's $10.5M to be won this week, the winner gets an insane $1.82M, and there are 550 FedEx Cup points awarded to the top golfer as well. The PGA Tour gets a look at The Concession Golf Club for the first time - it's 7,474 yards in length, is a par 72, and the greens consist of Bermuda grass. The winning score at this tournament over the past ten years averages -14.5, but that was on two different tracks so that fact is pretty much irrelevant for this week. The best score at this event was -25 by Tiger Woods in 2002 when the tournament was held overseas in Mount Juliet, Ireland. Invest into players who are strong with their approach shots, are solid from the sand, make the most of their opportunities gained, and can effectively get up and down from around the greens.
Increase your winning odds for each one of your golf bets by using PGA Tour tools and analytics.
Below you will find two players from each of four different betting tiers (from DraftKings Sportsbook) to win outright, these are the golfers that I like the most for this week as fantasy golf bets, plus a golfer in each tier that I would stay clear from. I would also advise you to throw in some top 5, top 10, and even top 20, 30, or 40 bets for the long shots as well to hedge against your outright bet(s).
Quick Links:
+2000 and lower
Dustin Johnson (+600) - Pretty much anytime that Johnson is in the field I'm on him for a bet of some sort. If you have been consistently betting him for outright wins and top 10's over the last couple of seasons you will be quite profitable. This week is a bit of an unknown with regards to the golf course and how players will adapt to it, so I don't think I would bet anyone to win outright, but would feel good about betting DJ for a top 5 and/or a top 10.
Tony Finau (+1800) - Finau is absolutely on fire - over his past four events he has a T4, T2 (on the European Tour), T2, and a runner-up finish last week after losing in a playoff to Max Homa. I'm all over him again this week and will feel good about betting him to finish top 10 - you could do a top 5 bet or even an outright win if you want to, but he hasn't won in a few years so that's a tad risky, even on his current heater.
Avoid: Justin Thomas (+1850) - It's really hard to say to avoid any of the top golfers this week, but I won't be betting Thomas since he's coming off a missed cut, only has one top 10 in his last four starts, his grandpa died so it could be affecting him mentally and emotionally, and he still has that homophobic slur mishap hanging over his head. JT could very well win this week, but I would give it a tournament or three for him to come back to his normal, elite form.
+2100 to +5000
Viktor Hovland (+2250) - I'm extremely impressed with Hovland's play this season, he has four top 6's in his last five starts including a win in Mexico, and seems like a threat to win any given week now. He hardly makes any double bogeys, has really been limiting his bogeys, and can stack up birdies with the best of them. I think a top 10 wager on Hovland this week wouldn't be a bad move at all.
Tyrrell Hatton (+2250) - Hatton won three starts ago in Abu Dhabi, is coming off a T6 at the Saudi International, and has four top 7's in his last eight starts. He has also been great when playing in Florida as he won the Arnold Palmer Invitational last year, and has piled up a few other top 10's on the state's tracks as well over the years. He hasn't played a tournament on the PGA Tour since late last year but had a T7 at the Houston Open and a T3 at The CJ Cup in a similar elite field as this week has.
Avoid: Sungjae Im (+4500) - Im usually plays most every week so it's surprising that he hasn't played since earlier this month, but he's back this week. His best finish is a T12 over his past four starts, and he might show some rust early on, so I'm off of Sungjae for this week even though he could have a top 20 - there are just better plays out there to pursue in this range.
+5100 to +10000
Ryan Palmer (+5500) - Palmer has three top 4's in his last five starts including a T2 at the Farmers Insurance Open two starts ago, makes lots of birdies while usually being in the single digits for bogey count, and he should play well in Florida this week. My only concern is that if he has been stuck in his native Texas, he likely hasn't been doing much practicing outside due to the crazy winter weather there, so that could play a factor this week but he's a consummate pro so I'm not concerned if he has been a bit idle lately.
Will Zalatoris (+7000) - Zalatoris is really starting to grow on me, and I can see him winning sooner rather than later on the PGA Tour. Had he not had a +4 in his third last week, he could have easily finished top 10 in a major-caliber field. He has seven top 17's in his last ten starts, and it all began when he exploded onto the scene with a T6 at the U.S. Open. I also like that not many players have seen this course in the past, so it gives him a bit of an edge perhaps as all his previous tournaments meant competing against players who mostly all have some sort of a track record at them. I think a top 10 and/or top 20 wager on Will-Z looks pretty good for this week.
Avoid: Tommy Fleetwood (+5500) - Fleetwood only has one top 10 in eight starts this season, and a few of them were on the European Tour. He could pop for a top 20 this week, but my money would be on him finishing in the 30's, and that wouldn't be much of an ROI anyway, so why bother.
+11000 and higher
Carlos Ortiz (+12500) - Ortiz has four top 14's in his last seven starts, and one of those was a win at the Houston Open - his first on the PGA Tour. He did miss the cut last week no thanks to his opening round of 75, but he rebounded well in round two with a 69, and was T4 in his previous start at the Phoenix Open. I feel pretty good about Ortiz's odds of rebounding this week, and would feel quite comfortable with placing a top 20 bet on him.
Marc Leishman (+12500) - I haven't paid much attention to Leishman this season because there hadn't really been a reason to, but he's coming around now so he's slowly getting onto my radar now. He has two top 18's in his last three starts and the one was a T4 at the Sony Open, plus, he has finished no worse than T32 in five out of his last six starts. I believe that Leishman should threaten to finish top 20, and he wouldn't be a bad bet at +250.
Avoid: Matt Kuchar (+15000) - I could have gone with a name that nobody has heard of before from the European Tour, but it's more fun to pick a name that we all know in Matt Kuchar. Kuuuuuuch has been regressing quickly over his last couple of seasons and has fared no better than T34 this season with four missed cuts in seven cut-based events. The two non-cut events he played in that featured elite fields, he finished T52 and T54, and I just don't see a way to make money on Kuch going forward... well until the Champions Tour is ready for him, at least.
Be sure to do lots of research and due diligence on each player before parting with your hard-earned money, and all the best in having a lucrative week!
Sportsbook Reviews
STAY IN TOUCH
Sign up for BettingData's newsletter and get awesome content sent to your inbox.
We'll never share your email address and you can opt out at any time, we promise.
---

Jeremy has been playing fantasy sports for over 20 successful years, and actively plays golf, hockey, baseball, and table tennis. He has over three years of fantasy sports writing experience - including writing a daily fantasy sports strategies and tools eBook in 2016. He is an active member of DraftKings - specializing in NHL and PGA contests over the past 5 years. He enjoys spending time with his family, traveling to hot places in the frigid Canadian Winters, binge-watching on Netflix, and starting and managing digital businesses.